Rozporządzenie porządkowe Wojewody Podkarpackiego
19-12-2014


Rozporządzenie porządkowe Wojewody Podkarpackiego nr 10/14 z dnia 12 grudnia w sprawie ograniczenia używania wyrobów pirotechnicznych na terenie województwa podkarpackiego.


Treść rozporządzenia:
images/10-14 ogranieczenia pirotechniki.pdf
Education
The youth can take advantage of rich educational offer. The youngest are taken care of by qualified staff of teachers in 11 well accommodated and equipped pre-schools. Day care centers can be found in two of these institutions. Parents can also send their children to an integrated pre-school run by the nuns.

Pupils from elementary schools have the opportunity to participate in many after school activities. The supplementary work with the pupils effects in their successes. According to rankings, elementary and secondary schools from Dębica are among the best in the Podkarpackie Province. Their students win numerous contests and competitions. High standards of teaching in secondary schools allow the students to get thorough education. Children in Dębica learn about healthy lifestyle. Some schools in town belong to National Net of Health Promoting Schools.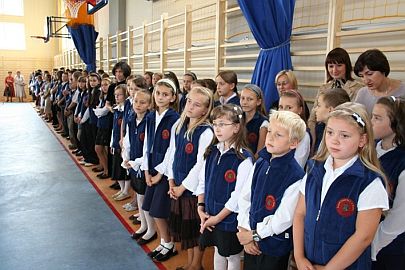 Schools are very well equipped and the students achive successes

The secondary school graduates can continue their education in 6 high school complexes. There are lyceums and profiled high schools with majors like economics, trade, gastronomy, sewing, mechanics, and administration.

The oldest school is King Wladyslaw Jagiello's Number I Lyceum in Dębica, established in 1900. For years it has been considered one of the best schools in Podkarpackie Province. The standards of teaching in other schools, i.e. The School of Economics, Vocational Schools Number I and II, and Lyceum Number II, are also high.

The graduates can continue studying in the local branch of Cracow University of Economics. Its students actively participate in social life of the town, holding many interesting events and lectures. Opening a branch of such a prestigious school is considered a great success of Dębica's authorities. The European School of New Technologies and Tourism can also be proud of its achievements in training personnel of hotel and computer science industries.