Rozporządzenie porządkowe Wojewody Podkarpackiego
19-12-2014


Rozporządzenie porządkowe Wojewody Podkarpackiego nr 10/14 z dnia 12 grudnia w sprawie ograniczenia używania wyrobów pirotechnicznych na terenie województwa podkarpackiego.


Treść rozporządzenia:
images/10-14 ogranieczenia pirotechniki.pdf
Culture
Dębica has plenty of cultural achievements in music and theatre in particular. Over one hundred years of musical tradition has influenced Krzysztof Penderecki, a world famous classical composer, born and raised in Dębica. Fascinated by local brass bands, he started his musical education. Even today, he gladly returns here and every year gives concerts in his birth town.
The Music School of I and II degree, named after Krzysztof Penderecki, has been training musically talented children for almost 50 years. Some graduates chose career in show business, but most of them continue with classical music. The music school graduates play in symphony and chamber orchestras, jazz bands, and popular music bands.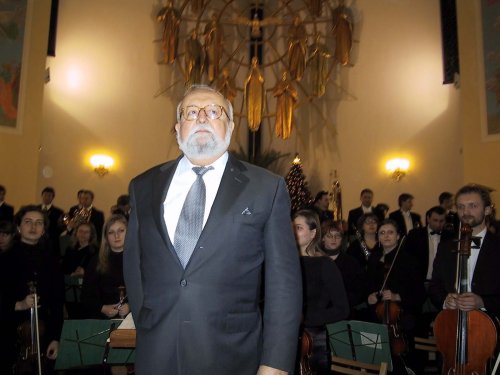 Krzysztof Penderecki giving concert in Dębica
Dębica is proud of its amateur artists movement, no other town in the country can match. For many years amateur actors and musicians have staged some famous Polish operas and operettas, like "Halka", "Verbum Mobile", "Krakowiacy i Górale". Every year several hundred people participate in this unusual event, originated by Paweł Adamek, a musician and organizer of cultural activities.
In Dębica there are numerous culture centers of variousprofiles. They offer various forms of cultural education – theatre, declamation, music, film, photography, dancing and art classes. The workshops, conducted by professionals, for many years have been popular among the children and teenagers, however theyare also addressed to adults. Owing to some outstanding expertsin drama, Dębica can be proud of its performing artists, whoperform on the best stages. Anna Augustynowicz, a director,
Mariusz Kilian and Mariusz Kropielnicki, actors, have begun their career here, in Dębica.
Dębica's Art Gallery is famous for its successful exhibitions, organizing plain-air workshops, and professional drawing school for children and teenagers. This is the place to meet not only local
artists, but also guests from abroad, and admire their works.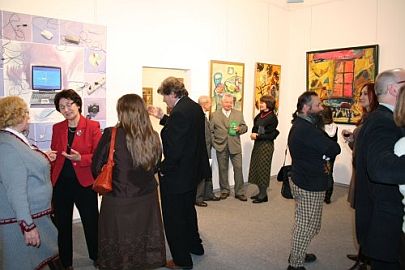 Exhibitions at Art Gallery are very popular
The Public Library has helped to educate many generations of Dębica citizens. The book collection, available to every person, consist of over 250.000 volumes. The reading room offers a wide choice of newspapers and magazines as well as some unique books. Several branches of the library work in the town. Interesting collection of books can be found in The Pedagogical Library. Its offer is addressed to students and teachers.
For 30 years the two Song and Dance Ensembles, "Małopolska"
and "Igloopolanie", have represented the town on stages in Poland and in the world. Regional folk tradition is maintained and celebrated by members of folk bands" Morsy" and" Gryfici".
Many important cultural events, such as "Golden Couple" Ballroom Dancing Competition, Children's and Youth Dance Ensembles Championships "O Laur Rzecha", declamation tournaments, and National Festival of Religious and Patriotic Songs "Polonia Semper Fidelis" take place in Dębica. During the Art's Days Festival thousands of theater and music lovers from Dębica and the region can watch some most interesting plays and concerts.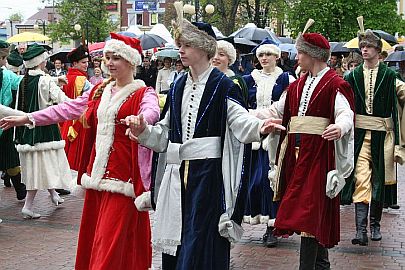 Song and Dance Ensembles "Igloopolanie"
One of the citizens' most favorite events is "Dębica Days", held in June. It is a few-day long festival, which takes place in the Town Square, the heart of our town. The concerts and sport games usually attract thousands of people form the region. Lots of people visit Regional History Museum and admire its rich collection of military pieces. One can see historical tanks and cannons, a combat plane and a helicopter. The museum is mentioned by Polish edition of Great Oxford Encyclopedia of the World, as a place worth visiting.